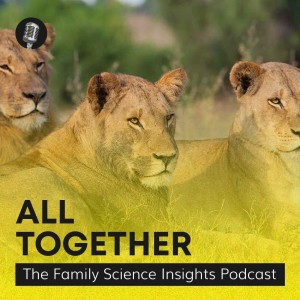 Friday Sep 15, 2023
Wendy Paris, MSW, MFA: Family Resilience and Well-being After Separation | All Together #35
Divorce and separation are common experiences for many families, often portrayed negatively in the media and films. However, on this episode of the All Together Podcast, host Dina Sargeant explores a different perspective. She is joined by Wendy Paris, author of 'Splitopia: Dispatches from Today's Good Divorce and How to Part Well,' which advocates for maintaining a positive relationship with your former partner without animosity.
Wendy, also co-author of the bestselling books like 'Buy the Change You Want to See' and 'Don't Quit Your Day Job,' brings her expertise to the discussion. Together, Dina and Wendy delve into the concept of a 'good divorce,' drawing from Wendy's real-life example of a healthy post-divorce relationship and its positive impact on her family.
Wendy shares strategies for overcoming challenges in maintaining a healthy relationship and how extended family members can provide support during separation. Tune in for valuable insights on fostering cordial and healthy relationships after divorce.
Connect with Wendy Paris on:
LinkedIn: https://www.linkedin.com/in/wendyparis/ 
Facebook: https://www.facebook.com/wendy.paris.31/ 
Visit her works at:
Official website: https://www.wendyparis.com/ 
Divorce wellness website: https://www.splitopia.com/ 
Publications: https://www.insidephilanthropy.com/ 
Produced by the Family Science Labs, a division of LMSL, the Life Management Science Labs.
Explore LMSL at https://lifemanagementsciencelabs.com/ and visit http://fa.lmsl.net/ for additional information about Family Science Labs.
Follow us on social media to stay updated: 
YouTube: https://www.youtube.com/@familysciencelabs/ 
Facebook: http://facebook.com/family.science.labs.1/ 
Instagram: https://www.instagram.com/family.science.labs/ 
LinkedIn: http://linkedin.com/showcase/familysciencelabs/ 
Twitter: https://twitter.com/FaScienceLabs/ 
TikTok: https://www.tiktok.com/@family.science.labs/ 
Pinterest: https://pinterest.com/familysciencelabs/ 
You can also subscribe and listen to our podcasts on your preferred podcasting platforms:
Apple Podcasts: https://podcasts.apple.com/us/podcast/all-together-the-family-science-insights-podcast/id1648226863 
Spotify: https://open.spotify.com/show/2KsAHQ9cboyvEwXq2oNGXF 
Amazon: https://music.amazon.com/podcasts/97921230-f6e8-4e0b-aaf6-57475fa796d7/all-together-the-family-science-insights-podcast 
iHeart Radio: https://iheart.com/podcast/102676509 
Podbean: https://familyscienceinsights.podbean.com/ 
PlayerFM: https://player.fm/series/3401811 
Podchaser: https://www.podchaser.com/podcasts/all-together-the-family-scienc-4903181 
Google Podcast: https://podcasts.google.com/feed/aHR0cHM6Ly9mZWVkLnBvZGJlYW4uY29tL2ZhbWlseXNjaWVuY2VpbnNpZ2h0cy9mZWVkLnhtbA 
Comments
(0)
To leave or reply to comments, please download free Podbean or