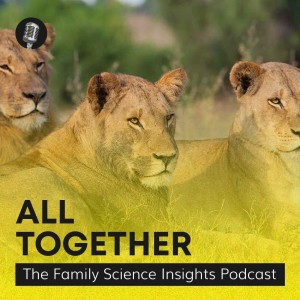 Friday Aug 11, 2023
Toyan "TJ" Harper: Re-entering Family Rituals After a Period of Absence | All Together #32
Sometimes, life pulls us away from our loved ones for a while due to unexpected events, which can affect the dynamics and resources of the family. In this episode of "All Together: The Family Science Insights Podcast," we will join host Dina Sargeant with our esteemed guest speaker, Toyan "TJ" Harper, to uncover the dynamics of family rituals and reentry after a period of absence, offering insights that resonate on both personal and societal levels.
Toyan Harper, often referred to as TJ, is a doctoral student from the University of Chicago School of Social Work, Policy and Practice, whose research uncovers the intricate connections between family dynamics and the reentry journey. He has personal connections with several family members and friends who encountered the criminal legal system, where he witnessed the enduring impact of system involvement. TJ also worked in a youth detention center as a creative writing instructor and at various social justice-oriented nonprofits. He is committed to decarceration efforts and reimagining reentry.
TJ shares the challenges of rebuilding family rituals after a period of absence due to incarceration. Drawing from personal and research experiences, he highlights the importance of open communication, managing expectations, and finding a balance between support and autonomy for the formerly incarcerated family member. Delving deeper into strategies for successful reintegration, TJ encourages us to understand the individual's desires, gradually introduce them to family life, and incorporate new rituals that resonate with their experiences.
Visit Toyan "TJ" Harper's official profile on The University of Chicago website at https://crownschool.uchicago.edu/directory/toyan-harper and connect with him on LinkedIn at https://www.linkedin.com/in/toyanharper
Produced by the Family Science Labs, a division of LMSL, the Life Management Science Labs.
Explore LMSL at https://lifemanagementsciencelabs.com/ and visit http://fa.lmsl.net/ for additional information about Family Science Labs.
Follow us on social media to stay updated: 
YouTube: https://www.youtube.com/@familysciencelabs/ 
Facebook: http://facebook.com/family.science.labs.1/ 
Instagram: https://www.instagram.com/family.science.labs/ 
LinkedIn: http://linkedin.com/showcase/familysciencelabs/ 
Twitter: https://twitter.com/FaScienceLabs/ 
TikTok: https://www.tiktok.com/@family.science.labs/ 
Pinterest: https://pinterest.com/familysciencelabs/ 
You can also subscribe and listen to our podcasts on your preferred podcasting platforms:
Apple Podcasts: https://podcasts.apple.com/us/podcast/all-together-the-family-science-insights-podcast/id1648226863 
Spotify: https://open.spotify.com/show/2KsAHQ9cboyvEwXq2oNGXF 
Amazon: https://music.amazon.com/podcasts/97921230-f6e8-4e0b-aaf6-57475fa796d7/all-together-the-family-science-insights-podcast 
iHeart Radio: https://iheart.com/podcast/102676509 
Podbean: https://familyscienceinsights.podbean.com/ 
PlayerFM: https://player.fm/series/3401811 
Podchaser: https://www.podchaser.com/podcasts/all-together-the-family-scienc-4903181 
Google Podcast: https://podcasts.google.com/feed/aHR0cHM6Ly9mZWVkLnBvZGJlYW4uY29tL2ZhbWlseXNjaWVuY2VpbnNpZ2h0cy9mZWVkLnhtbA 
Comments
(0)
To leave or reply to comments, please download free Podbean or