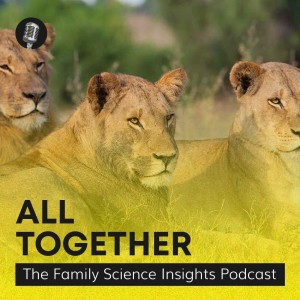 Friday Jun 09, 2023
Rhea Dempsey: What Matters to a Family During Childbirth? | All Together #27
Childbirth, a transformative and deeply personal experience, brings forth a range of emotions, concerns, and hopes for families. Among the common concerns expressed during childbirth is the fear of the unknown, which encompasses physical pain, potential complications, and the well-being of both mother and baby. Education, open communication, and access to professional support are vital in addressing these concerns and alleviating anxieties.
Join host Dina Sargeant in this enlightening episode of All Together as she welcomes Rhea Dempsey, a childbirth educator, speaker, counselor, and birth attendant (doula) with extensive experience in over a thousand births in Victoria, Australia. Rhea's passion lies in educating women about the influence of birth culture on birth outcomes.
Preparing for childbirth is a crucial step that families can take even before conception. In this episode, Rhea emphasized the significance of this preparation and explored the fears families face during childbirth. She highlighted the involvement of partners and other family members in the birthing process, emphasizing the comfort they provide in the hospital room. It's important to recognize that childbirth is a deeply personal and culturally significant event influenced by a family's cultural background and birth culture. 
In this episode, you will also delve into Rhea's book, Beyond The Birth Plan, discussing the need for emotional care that birthing women often find lacking within the hospital system.
Visit Rhea's official website at https://www.birthingwisdom.com.au/ and connect with her on LinkedIn at https://www.linkedin.com/in/rheadempsey/ 
Produced by the Family Science Labs, a division of LMSL, the Life Management Science Labs.
Explore LMSL at https://lifemanagementsciencelabs.com/ and visit http://fa.lmsl.net/ for additional information about Family Science Labs.
Follow us on social media to stay updated: 
YouTube: https://www.youtube.com/@familysciencelabs/ 
Facebook: http://facebook.com/family.science.labs.1/ 
Instagram: https://www.instagram.com/family.science.labs/ 
LinkedIn: http://linkedin.com/showcase/familysciencelabs/ 
Twitter: https://twitter.com/FaScienceLabs/ 
TikTok: https://www.tiktok.com/@family.science.labs/ 
Pinterest: https://pinterest.com/familysciencelabs/ 
You can also subscribe and listen to our podcasts on your preferred podcasting platforms:
Apple Podcasts: https://podcasts.apple.com/us/podcast/all-together-the-family-science-insights-podcast/id1648226863 
Spotify: https://open.spotify.com/show/2KsAHQ9cboyvEwXq2oNGXF 
Amazon: https://music.amazon.com/podcasts/97921230-f6e8-4e0b-aaf6-57475fa796d7/all-together-the-family-science-insights-podcast 
iHeart Radio: https://iheart.com/podcast/102676509 
Podbean: https://familyscienceinsights.podbean.com/ 
PlayerFM: https://player.fm/series/3401811 
Podchaser: https://www.podchaser.com/podcasts/all-together-the-family-scienc-4903181 
Google Podcast: https://podcasts.google.com/feed/aHR0cHM6Ly9mZWVkLnBvZGJlYW4uY29tL2ZhbWlseXNjaWVuY2VpbnNpZ2h0cy9mZWVkLnhtbA 
Comments
(0)
To leave or reply to comments, please download free Podbean or