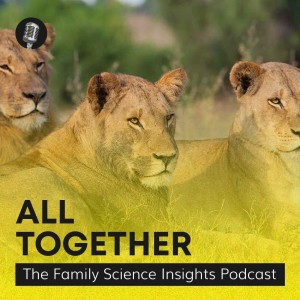 Friday Jun 16, 2023
Morgan Cooley, Ph.D., LCSW: Foster Care's Impact on Child's Mental Health | All Together #28
As a system to provide temporary care and support to children who are unable to live with their biological families, foster care offers a safe and nurturing environment for them to grow. However, the experience of being placed in foster care can have a significant impact on a child's mental health and well-being. It is crucial to comprehend the difficulties and complexities faced by these children in order to provide them with the necessary support and interventions they require.
Joining us today is Morgan Cooley, a licensed clinical social worker specializing in couple and family therapy, child welfare-involved families, mental health, trauma, and supporting individuals who identify as LGBT+. Morgan holds a Ph.D. in Marriage and Family Therapy and an MSW in Social Work from Florida State University. Currently, she serves as a faculty member in the field of social work at Florida Atlantic University.
Throughout the conversation, she emphasizes the crucial role of foster families in supporting a child's mental health during their time in care. The complexities of the foster care system are discussed, highlighting the potential impact of prolonged stays on a child's mental well-being. Additionally, the stigma and challenges surrounding mental health in foster care are brought to attention, emphasizing the need for greater awareness and support.
Visit Morgan Cooley's official profile on Florida Atlantic University's website at https://www.fau.edu/sw-cj/ssw/faculty-and-staff/people/cooley/  
Produced by the Family Science Labs, a division of LMSL, the Life Management Science Labs.
Explore LMSL at https://lifemanagementsciencelabs.com/ and visit http://fa.lmsl.net/ for additional information about Family Science Labs.
Follow us on social media to stay updated: 
YouTube: https://www.youtube.com/@familysciencelabs/ 
Facebook: http://facebook.com/family.science.labs.1/ 
Instagram: https://www.instagram.com/family.science.labs/ 
LinkedIn: http://linkedin.com/showcase/familysciencelabs/ 
Twitter: https://twitter.com/FaScienceLabs/ 
TikTok: https://www.tiktok.com/@family.science.labs/ 
Pinterest: https://pinterest.com/familysciencelabs/ 
You can also subscribe and listen to our podcasts on your preferred podcasting platforms:
Apple Podcasts: https://podcasts.apple.com/us/podcast/all-together-the-family-science-insights-podcast/id1648226863 
Spotify: https://open.spotify.com/show/2KsAHQ9cboyvEwXq2oNGXF 
Amazon: https://music.amazon.com/podcasts/97921230-f6e8-4e0b-aaf6-57475fa796d7/all-together-the-family-science-insights-podcast 
iHeart Radio: https://iheart.com/podcast/102676509 
Podbean: https://familyscienceinsights.podbean.com/ 
PlayerFM: https://player.fm/series/3401811 
Podchaser: https://www.podchaser.com/podcasts/all-together-the-family-scienc-4903181 
Google Podcast: https://podcasts.google.com/feed/aHR0cHM6Ly9mZWVkLnBvZGJlYW4uY29tL2ZhbWlseXNjaWVuY2VpbnNpZ2h0cy9mZWVkLnhtbA 
Comments
(0)
To leave or reply to comments, please download free Podbean or