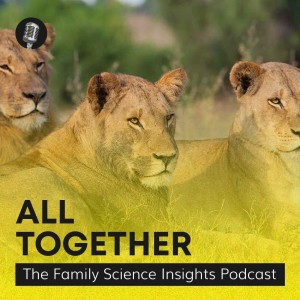 Monday Aug 07, 2023
Kinsey Pocchio, LMFT, Ph.D.: Building Healthy Relationships with Family Routines | All Together #31
Maintaining strong and healthy relationships within the family can be challenging. The essence of family lies in the bonds that tie its members together, forming a close-knit unit that provides love, support, and security. Amidst hectic schedules, work pressures, and countless distractions, the value of establishing and nurturing family routines has never been more crucial.
Join host Dina Sargeant on this episode of "All Together" as she explores the significance of building strong and healthy relationships with family routines with Kinsey E. Pocchio, LMFT, Ph.D. She is a licensed marriage and family therapist in Tallahassee, United States. Her practice, Bloom & Heal Therapy Services, has been open for two years this fall. In her therapy work, she specializes in couples/family therapy, eating disorders and personality disorders. Kinsey is currently finishing up her Ph.D. at Florida State University, where she also teaches for the university, and also has her own psychology podcast: Mentally Morbid that she hosts with her close friends from her masters program.
Get ready to embark on an enriching journey as we unlock the secrets of establishing a consistent routine can help strengthen family relationships. No matter how busy and unpredictable your schedules may be, Kinsey unveils a treasure trove of keys and effective ways to maintain family routines, ensuring that love and togetherness remain at the heart of your family's journey. But that's not all! In this episode, we also dive into the exciting realm of the benefits and challenges of maintaining family routines also discussed.
Visit Kinsey Pocchio's official profile on her therapy services website at https://www.bloomandhealtherapy.com/team-4, and crave more valuable insights and fascinating discussions on psychology by tuning in to her podcast, Mentally Morbid, at https://www.mentallymorbid.com/, and connect with Mentally Morbid on their engaging social media platforms! You can find them on:
Instagram: https://instagram.com/mentallymorbidpod/ 
Facebook: https://www.facebook.com/MentallyMorbid/ 
TikTok: https://www.tiktok.com/@mentallymorbidpod/ 
Produced by the Family Science Labs, a division of LMSL, the Life Management Science Labs.
Explore LMSL at https://lifemanagementsciencelabs.com/ and visit http://fa.lmsl.net/ for additional information about Family Science Labs.
Follow us on social media to stay updated: 
YouTube: https://www.youtube.com/@familysciencelabs/ 
Facebook: http://facebook.com/family.science.labs.1/ 
Instagram: https://www.instagram.com/family.science.labs/ 
LinkedIn: http://linkedin.com/showcase/familysciencelabs/ 
Twitter: https://twitter.com/FaScienceLabs/ 
TikTok: https://www.tiktok.com/@family.science.labs/ 
Pinterest: https://pinterest.com/familysciencelabs/ 
You can also subscribe and listen to our podcasts on your preferred podcasting platforms:
Apple Podcasts: https://podcasts.apple.com/us/podcast/all-together-the-family-science-insights-podcast/id1648226863 
Spotify: https://open.spotify.com/show/2KsAHQ9cboyvEwXq2oNGXF 
Amazon: https://music.amazon.com/podcasts/97921230-f6e8-4e0b-aaf6-57475fa796d7/all-together-the-family-science-insights-podcast 
iHeart Radio: https://iheart.com/podcast/102676509 
Podbean: https://familyscienceinsights.podbean.com/ 
PlayerFM: https://player.fm/series/3401811 
Podchaser: https://www.podchaser.com/podcasts/all-together-the-family-scienc-4903181 
Google Podcast: https://podcasts.google.com/feed/aHR0cHM6Ly9mZWVkLnBvZGJlYW4uY29tL2ZhbWlseXNjaWVuY2VpbnNpZ2h0cy9mZWVkLnhtbA 
Comments
(0)
To leave or reply to comments, please download free Podbean or