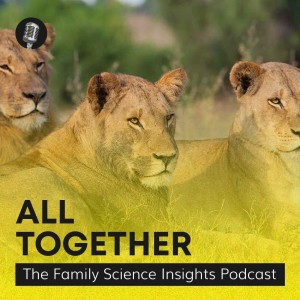 Friday Aug 18, 2023
Kelly D. Chandler, Ph.D.: How Work-Life Conflict Affects the Family Relationships | All Together #33
The intricate interplay between the demands of professional life and the vital personal obligations to nurture one's family has given rise to a phenomenon widely recognized as work-family conflict. Welcome to the latest episode of "All Together: The Family Science Insights Podcast," where we delve into the complexities of this dynamic with our insightful host, Dina Sargeant.
Joining her is our esteemed guest speaker, Kelly D. Chandler, Ph.D., an Associate Professor in Human Development and Family Sciences at the College of Health, Oregon State University. Her research interests focus on a work-family justice lens to study how working conditions, workplace culture, and work-family policies affect the health and daily lives of employees and their families. She also examines the implications of work for family processes, including emotional transmission, family routines, and parental socialization.
In this episode, we embark on an engaging conversation guided by Kelly's expertise on this topic. We address the multifaceted dimensions of work-family balance, beginning by confronting the inevitable challenges that families encounter when striving to strike a harmonious balance between their professional and familial responsibilities. Yet amidst these challenges, our dialogue then transitions to a deeper exploration of collaborative strategies that family members can employ to support each other in achieving a healthier work-family balance.
Visit Kelly D. Chandler's official profile on Oregon State University website at https://health.oregonstate.edu/people/kelly-chandler and connect with her on LinkedIn by accessing this link https://www.linkedin.com/in/kelly-d-chandler-3174a6261/ 
Produced by the Family Science Labs, a division of LMSL, the Life Management Science Labs.
Explore LMSL at https://lifemanagementsciencelabs.com/ and visit http://fa.lmsl.net/ for additional information about Family Science Labs.
Follow us on social media to stay updated: 
YouTube: https://www.youtube.com/@familysciencelabs/ 
Facebook: http://facebook.com/family.science.labs.1/ 
Instagram: https://www.instagram.com/family.science.labs/ 
LinkedIn: http://linkedin.com/showcase/familysciencelabs/ 
Twitter: https://twitter.com/FaScienceLabs/ 
TikTok: https://www.tiktok.com/@family.science.labs/ 
Pinterest: https://pinterest.com/familysciencelabs/ 
You can also subscribe and listen to our podcasts on your preferred podcasting platforms:
Apple Podcasts: https://podcasts.apple.com/us/podcast/all-together-the-family-science-insights-podcast/id1648226863 
Spotify: https://open.spotify.com/show/2KsAHQ9cboyvEwXq2oNGXF 
Amazon: https://music.amazon.com/podcasts/97921230-f6e8-4e0b-aaf6-57475fa796d7/all-together-the-family-science-insights-podcast 
iHeart Radio: https://iheart.com/podcast/102676509 
Podbean: https://familyscienceinsights.podbean.com/ 
PlayerFM: https://player.fm/series/3401811 
Podchaser: https://www.podchaser.com/podcasts/all-together-the-family-scienc-4903181 
Google Podcast: https://podcasts.google.com/feed/aHR0cHM6Ly9mZWVkLnBvZGJlYW4uY29tL2ZhbWlseXNjaWVuY2VpbnNpZ2h0cy9mZWVkLnhtbA 
Comments
(0)
To leave or reply to comments, please download free Podbean or