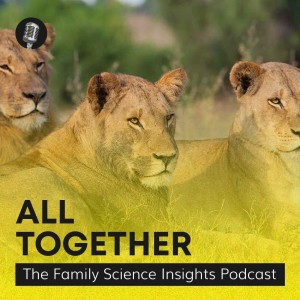 Monday Jun 05, 2023
Dr. Lauren D. Pitts-Bounds, EdD, LMFT: Addressing Codependency Issue in a Family | All Together #26
Codependency is a complex pattern of behavior that often emerges within families, characterized by an excessive reliance on others for emotional well-being and a lack of personal boundaries. These dysfunctional dynamics can give rise to a range of problems, including strained relationships, unresolved conflicts, and hindered individual growth. However, family therapy offers a promising approach to address codependent behaviors and cultivate healthier relationships. With the guidance and support of a skilled family therapist, families can delve into the root causes of codependency and work towards developing more balanced and fulfilling relationships.
Join host Dina Sargeant in this episode of All Together as she welcomes Dr. Lauren D. Pitts-Bounds, EdD, LMFT, Life Coach, a passionate Licensed Marriage & Family Therapist and Life Coach. She is also a CEO and founder of Legacy Counseling & Life Coaching, LLC, which was founded for the purpose of helping clients to develop in all areas of their lives: emotionally, physically, mentally, and spiritually, and providing counseling services to individuals, couples, families, and groups including scholar-athletes and professional athletes in the states of Texas and Delaware.
During this episode, Dr. Lauren defines family codependency as a ripple effect, originating from problematic behavior that permeates the entire family system, leading to unhealthy patterns of functioning. She discusses the prevalence of codependent relationships in various contexts, such as parent-child relationships, sibling relationships, and intimate partner relationships. Dr. Lauren emphasizes the significance of addressing and healing from trauma and mental health issues. She encourages everyone to educate themselves about codependency and consider therapy, even if they are not consciously aware of any underlying trauma.
Tune in to this enlightening conversation as Dina Sargeant and Dr. Lauren shed light on the concept of codependency within families and offer valuable insights for healing and growth.
Connect with Dr. Lauren D. Pitts-Bounds and visit her works at:
Website: https://drlaurendpitts.com/ 
LinkedIn: https://www.linkedin.com/in/dr-lauren-d-pitts-edd-lmft-legacy-counseling-and-life-coaching-llc-4221ab154/ 
Instagram: https://www.instagram.com/DrLaurenPitts/ 
House Talk Pre-game Podcast: https://podcasts.apple.com/id/podcast/house-talk-pre-game-w-dr-lauren-pitts-ronnie-ransome-jr/id1648686503 
Produced by the Family Science Labs, a division of LMSL, the Life Management Science Labs.
Explore LMSL at https://lifemanagementsciencelabs.com/ and visit http://fa.lmsl.net/ for additional information about Family Science Labs.
Follow us on social media to stay updated: 
YouTube: https://www.youtube.com/@familysciencelabs/ 
Facebook: http://facebook.com/family.science.labs.1/ 
Instagram: https://www.instagram.com/family.science.labs/ 
LinkedIn: http://linkedin.com/showcase/familysciencelabs/ 
Twitter: https://twitter.com/FaScienceLabs/ 
TikTok: https://www.tiktok.com/@family.science.labs/ 
Pinterest: https://pinterest.com/familysciencelabs/ 
You can also subscribe and listen to our podcasts on your preferred podcasting platforms:
Apple Podcasts: https://podcasts.apple.com/us/podcast/all-together-the-family-science-insights-podcast/id1648226863 
Spotify: https://open.spotify.com/show/2KsAHQ9cboyvEwXq2oNGXF 
Amazon: https://music.amazon.com/podcasts/97921230-f6e8-4e0b-aaf6-57475fa796d7/all-together-the-family-science-insights-podcast 
iHeart Radio: https://iheart.com/podcast/102676509 
Podbean: https://familyscienceinsights.podbean.com/ 
PlayerFM: https://player.fm/series/3401811 
Podchaser: https://www.podchaser.com/podcasts/all-together-the-family-scienc-4903181 
Google Podcast: https://podcasts.google.com/feed/aHR0cHM6Ly9mZWVkLnBvZGJlYW4uY29tL2ZhbWlseXNjaWVuY2VpbnNpZ2h0cy9mZWVkLnhtbA 
Comments
(0)
To leave or reply to comments, please download free Podbean or