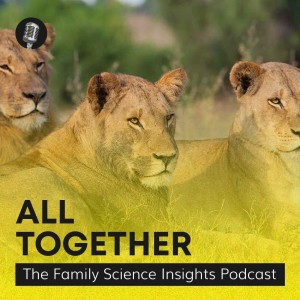 Friday Aug 04, 2023
Dr. Brennan D. Peterson: Coping With Male Infertility as a Couple in a Family | All Together #30
Welcome back to another insightful episode of All Together: The Family Science Insights Podcast. Join host Dina Sargeant as we embark on a profound exploration of the emotionally charged journey of coping with male infertility as a couple in a family. Infertility is a challenging and emotionally exhausting journey for any couple dreaming of building a family. Traditionally, the burden of infertility has been associated with women. However, in recent years, there has been a growing recognition of male infertility as a significant factor in the struggle to conceive.
Today, we are honored to have the esteemed Dr. Brennan D. Peterson as our guest. Dr. Brennan is a professor of Marriage and Family Therapy at Chapman University. He specializes in helping people who have experienced childhood trauma, infertility, and loss, also helping couples increase their relationship satisfaction, emotional connection, and recovery from infidelity. Holding a Ph.D. from the Virginia Polytechnic Institute and State University, Dr. Brennan's research focuses on the mental health implications of infertility including couple coping processes and fertility awareness issues.
Delving deeper into the topic of male infertility, Dr. Brennan will shed light on its profound effects on the overall experience of coping with infertility as a family. We will explore the societal stigmas surrounding male factor infertility and uncover the unique challenges that couples face when male infertility becomes a part of their journey towards parenthood.
Not least, get ready to take notes as Dr. Brennan shares essential strategies for families to navigate societal expectations and pressures related to male fertility. Together, we will explore recommended coping mechanisms to help families overcome the resulting stigma and build a strong, supportive foundation during this challenging time.
Visit Dr. Brennan D. Peterson's official profile on Chapman University's website at https://www.chapman.edu/our-faculty/brennan-peterson 
Produced by the Family Science Labs, a division of LMSL, the Life Management Science Labs.
Explore LMSL at https://lifemanagementsciencelabs.com/ and visit http://fa.lmsl.net/ for additional information about Family Science Labs.
Follow us on social media to stay updated: 
YouTube: https://www.youtube.com/@familysciencelabs/ 
Facebook: http://facebook.com/family.science.labs.1/ 
Instagram: https://www.instagram.com/family.science.labs/ 
LinkedIn: http://linkedin.com/showcase/familysciencelabs/ 
Twitter: https://twitter.com/FaScienceLabs/ 
TikTok: https://www.tiktok.com/@family.science.labs/ 
Pinterest: https://pinterest.com/familysciencelabs/ 
You can also subscribe and listen to our podcasts on your preferred podcasting platforms:
Apple Podcasts: https://podcasts.apple.com/us/podcast/all-together-the-family-science-insights-podcast/id1648226863 
Spotify: https://open.spotify.com/show/2KsAHQ9cboyvEwXq2oNGXF 
Amazon: https://music.amazon.com/podcasts/97921230-f6e8-4e0b-aaf6-57475fa796d7/all-together-the-family-science-insights-podcast 
iHeart Radio: https://iheart.com/podcast/102676509 
Podbean: https://familyscienceinsights.podbean.com/ 
PlayerFM: https://player.fm/series/3401811 
Podchaser: https://www.podchaser.com/podcasts/all-together-the-family-scienc-4903181 
Google Podcast: https://podcasts.google.com/feed/aHR0cHM6Ly9mZWVkLnBvZGJlYW4uY29tL2ZhbWlseXNjaWVuY2VpbnNpZ2h0cy9mZWVkLnhtbA 
Comments
(0)
To leave or reply to comments, please download free Podbean or