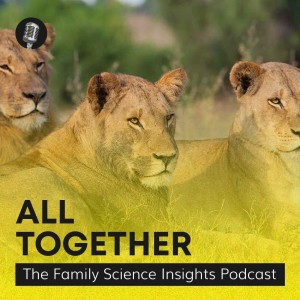 Friday Sep 01, 2023
David B. Seaburn, Ph.D., LMFT: Nurturing Family Functioning Through Communication | All Together #34
On this episode of the All Together Podcast, host Gabriella Joustra is joined by David B. Seaburn, Ph.D., LMFT., a marriage and family therapist with over 35 years of experience, as well as a novelist of many books. Gabriella and David look into how families can navigate positive and effective communication that allows all family members to feel heard.
After serving a rural parish for six years, David entered the mental health field in 1981. He worked in community mental health for several years before being recruited to the University of Rochester Medical Center, where he served as an Assistant Professor of Psychiatry and Family Medicine for nearly twenty years. During this time, he directed the Family Therapy Training Program (Psychiatry) and coordinated the Psychosocial Medicine Rotation (Highland Family Medicine Residency Program). He has published over sixty academic papers and co-authored two books: 'Family-oriented Primary Care' (1990) and 'Models of Collaboration' (1996). As a novelist, his latest work, 'Give Me Shelter' (2022), was short-listed for the Somerset Award in Literary and Contemporary Fiction (2022), named as finalist for the Maxy Award in Literary and Humor Fiction (2023), and placed on the American Writing Awards Hawthorne Prize (2023).
David shares the benefits of effective communication, as well as potential barriers and navigational steps that can impact communication. The role of storytelling in strengthening family bonds is also discussed, along with addressing potential barriers to effective communication and strategies for resolving conflicts within the family through active listening and effective communication.
Connect with David via LinkedIn at https://www.linkedin.com/in/david-seaburn-phd-lmft-a5740ab/  
Produced by the Family Science Labs, a division of LMSL, the Life Management Science Labs.
Explore LMSL at https://lifemanagementsciencelabs.com/ and visit http://fa.lmsl.net/ for additional information about Family Science Labs.
Follow us on social media to stay updated: 
YouTube: https://www.youtube.com/@familysciencelabs/ 
Facebook: http://facebook.com/family.science.labs.1/ 
Instagram: https://www.instagram.com/family.science.labs/ 
LinkedIn: http://linkedin.com/showcase/familysciencelabs/ 
Twitter: https://twitter.com/FaScienceLabs/ 
TikTok: https://www.tiktok.com/@family.science.labs/ 
Pinterest: https://pinterest.com/familysciencelabs/ 
You can also subscribe and listen to our podcasts on your preferred podcasting platforms:
Apple Podcasts: https://podcasts.apple.com/us/podcast/all-together-the-family-science-insights-podcast/id1648226863 
Spotify: https://open.spotify.com/show/2KsAHQ9cboyvEwXq2oNGXF 
Amazon: https://music.amazon.com/podcasts/97921230-f6e8-4e0b-aaf6-57475fa796d7/all-together-the-family-science-insights-podcast 
iHeart Radio: https://iheart.com/podcast/102676509 
Podbean: https://familyscienceinsights.podbean.com/ 
PlayerFM: https://player.fm/series/3401811 
Podchaser: https://www.podchaser.com/podcasts/all-together-the-family-scienc-4903181 
Google Podcast: https://podcasts.google.com/feed/aHR0cHM6Ly9mZWVkLnBvZGJlYW4uY29tL2ZhbWlseXNjaWVuY2VpbnNpZ2h0cy9mZWVkLnhtbA 
Comments
(0)
To leave or reply to comments, please download free Podbean or